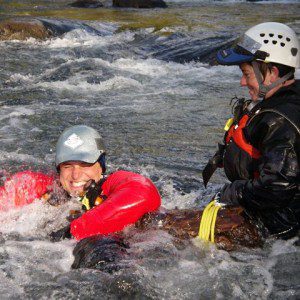 Ahh, the season begins!  Sierra Rescue started today with our first Swiftwater classes of the new year.
Julie Munger, co-owner of Sierra Rescue, is teaching a Swiftwater Rescue Technician Unit 1 Class in Knights Ferry, CA.  Once the SRT is over on Wednesday, she'll follow it up with a Swiftwater Rescue Technician Advanced, also in Knights Ferry.  Julie commented, "I love teaching swiftwater in Knights Ferry this time of year.  The water levels are great and the river park is almost exclusively for us.  Its great!"
Meanwhile, Abigail Polsby is teaching a Swiftwater Rescue Technician Unit 1 and Wilderness Survival course in the Hoopa Valley for the Tribal Civilian Community Corps.  "This is a Sierra Rescue tradition, and we have been working with the Hoopa TCCC for years," commented Abigial.  "The Hoopa class is a specialty of ours.  We can customize trainings to fit the needs of individual clients: in the case of Hoopa we always combo the SRT-1 with a one-day survival rescue training.  Sierra Rescue is proud to partner with the Hoopa Tribe for these important classes."
Our season is starting to fill up and we would love to have you in one of our Spring Rescue classes.  Check them out at SierraRescue.com for complete Swiftwater Rescue, Technical Rope and Wilderness First Aid trainings.  We hope to see you in a class with Sierra Rescue soon!