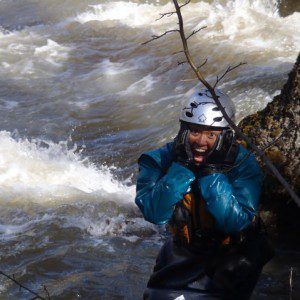 Good Morning 🙂
This last weekend, Bird, Mark, Bruce and I took a River Rescue Class designed for kayakers from Sierra Rescue!  We came across Sierra Rescue upon high recommendations from Manny Souza, Charlie Albright and Phil DeRiemer of DeRiemer Adventure Kayaking!!!!!
We can't thank those guys enough for the recommendation!!!!!
What an amazing experience! It was especially wonderful that I took the class with people that I normally paddle with.
It was also special because we had Gigi of Current Adventures also assistant teaching the class with Julie Munger of Sierra Rescue. BOTH women had shared their impressive knowledge, incredible skills, multiple helpful tools, and solid experience that will definitely be useful on the river, especially as a paddler to help ourselves and others!!!!! It wasn't very overwhelming, but it was VERY EMPOWERING!!!!
Personally, I learned so much! This class helped me gain a renewed appreciation and perspective of the river, assessing situations and prevention! I gained whitewater skills to help myself and others when there is entrapment, pinned boat, swimmers, both on and off our boats. I have taken a swiftwater rescue class designed for firefighters and rescue personnel on the Yuba River in the past, but taking this class specifically for paddlers was really beneficial! It also instilled the importance of practicing what we learned!
I want to highly recommend taking any Whitewater Rescue class!!! IT IS AN INCREDIBLE INVESTMENT!!!
Have a wonderful day everyone!!!
With smiles,
Rita 🙂