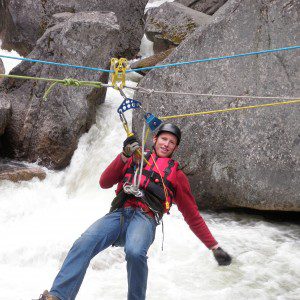 Zach Byars, Texas native turned western river adventurer has been teaching Swiftwater Rescue with Sierra Rescue for four years. Owing his affinity for whitewater to his parents, who worked as commercial raft guides for ARTA in the 70's,  Zach jumped into swiftwater early in his life. "It's in my blood, I feel at home in the water," says Byars. Before joining the ranks of Sierra Rescue, Zach guided commercially in most of the western states. He is especially fond of the Texas canyons carved by the Rio Grande in Big Bend National Park. "What they lack in whitewater, the Lower Canyons of the Rio Grande make up for in stunning beauty and remoteness."
Full of energy and excitement, he has a passion for teaching.  Zach will be back in action this spring, and is most looking forward to spending time in the Yosemite Valley for the Swiftwater Rescue Technician ,  Swiftwater Rescue Technician-Advanced and River Rescue Certification courses.
In his summer 'break' from swiftwater rescue courses Zach still guides commercially for ECHO River Trips as a sweep boat pilot on the Middle Fork of the Salmon River. This unique craft goes ahead of the trip on multi-day excursions and carries the majority of the gear. "Its a dream job," says Byars. "You and the Middle Fork, and a big pile of bags…everyday." When he's not teaching or recreating on the river, Zach is a ski instructor in Jackson Hole, Wyo. "It's nice to be on the water year-round; even if a third of the time its frozen…" In his spare time, Zach plays the mandolin and is currently playing in a Jackson-based band.
In Zach's first ever swiftwater course as a student with Sierra Rescue, he brought along his "river rescue tube" for a three-day Rogue River SRT-A/RRC-A. Although the official use of a tube as an 'adjunct to rescue' is still up for debate, Zach enjoys tubing as a form of recreational whitewater adventure. During the night search of the course, he was first to find and stabilize Julie. (They later transported her to the raft in the tube.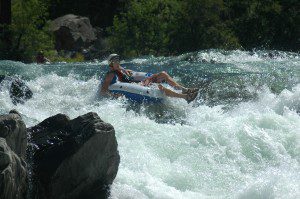 Byars recalls another  funny teaching  moment at Sierra Rescue: "I remember when I was teaching entrapments, and as serious as I could be, I took a throw bag and made a lasso, then procceded to lasso my assistant in the middle of the simulated channel. I said, 'that's the Texas Cinch, now get to practicing…'"