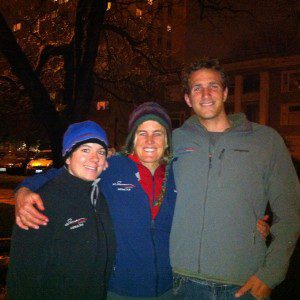 The Sierra Rescue Team is a talented group of instructors and industry leaders in Swiftwater Rescue, Technical Rope and Wilderness First Aid instruction.  We work with a very small pool of instructors because giving our students the best possible learning experience is essential to our business.  We believe that all rescue training need to promote prevention of accidents, rescuer safety first, learning lots in a supportive environment while training hard and having fun!  Sierra Rescue is proud to support these values with great instrcutors, so read on to meet a few of the talented rescue instructors we work with:
Julie Munger: In addition to being Rescue 3 Instructor of the Year, Julie Munger is an internationally acclaimed white water professional, river guide and was a member of the world championship US Women's Rafting Team from 1985-2001. A graduate of UC Davis and a swiftwater rescue instructor for 25 years, she integrates her practical experience with professional teaching skills. Munger has worked as a wildland firefighter and taught agencies as diverse as Fish and Game, Search and Rescue, Fire Fighters, Coast Guard Rescue Swimmers, the Hoopa Tribe and the Marine Warfare Training Center. Her ability to apply specific curriculum to the agencies she teaches is one of her many assets. Julie's lifetime accomplishments include the first self-support riverboard trip down the Grand Canyon and co-owning Arctic River Journeys. She has been featured in such magazines as Outside, Paddlers, American Whitewater and Canoe and Kayak.
Abigail Polsby: Abigail has been instructing wilderness skills for the past 10 years. She is a certified American Canoe Association (ACA) Swiftwater Rescue Instructor as well as an Instructor Trainer for Rescue 3 International. Abigail has a strong mountaineering, First Aid and teaching background. She was a lead instructor for Hurricane Island and Colorado Outward Bound Schools and works well with all ages and abilities. Polsby is a patient and dedicated instructor. She has worked professionally and volunteered for Search and Rescue and was previously the owner/ operator of Olympic Mountain Outdoors, a guide service offering backpacking, snowshoeing and backcountry skiing trips around Washington State. She has also worked as a rafting and kayaking guide for Mountain Travel Sobek. In 1998 she founded Arctic River Journeys, an Alaska whitewater rafting outfitter. When not river guiding or teaching rescue, Abigail can be found surfing in Mexico, skiing in Tahoe, or climbing in British Columbia. Most recently, Abigail Polsby was voted Rescue 3 Swiftwater Rescue Instructor Preceptor 2006.
Jonathan Blum: Jonathan has been working in the outdoor industry and instructing wilderness skills for more than a decade. He is a Rescue 3 International instructor for Swiftwater Rescue and Technical Rope Rescue.  Jonathan is also a ACA certified kayak instructor and river guide trainer. He has a strong background in whitewater, with more than 1800 river days logged, and more than 10,000 river miles under his belt! Jonathan works well with students of varied backgrounds, including river guides, fire fighters, search and rescue teams and white water boaters.  Jonathan also has a strong background in First Aid and patient care, including his certification as a LPN and his current progressing to getting his RN in June 2011.  Jonathan runs the Sierra Rescue office when Julie and Abi are teaching in the field, and is great at answering all of the questions folks have before registering for our classes.  On his days off (which aren't many with nursing school and Sierra Rescue), he enjoys working on his house in The Dalles, OR, kiteboarding and paddling all of the great rivers in the Pacific Northwest.
Mike Mather: Mike Mather is a legend in the whitewater rescue world.  With more than 20 years of experience teaching Swiftwater Rescue, Mike is one of the most well known names in Swiftwater Rescue today.  With training experience ranging from kayaking, to motorized boats, to river rafts to river boarding, there are few people who have mastered so many skills, and are equally skilled at teaching others of their mastery.  Mike instills a passion for rescue in his students that leads to real rescue success in real situations.  He is patient and funny, tells a great story and is one of the most convincing river rescue victims in simulation you will ever see!  We are very fortunate to have Mike working with us again this year and bringing his incredible skill and humble attitude to Sierra Rescue!
Zach Byars: Zach has worked with Sierra Rescue for two years instructing Swiftwater Rescue courses.  Zach is a very skilled river guide and still spends much of his summers working on munti-day, isolated river trips where the only way "out" on the river is to head downstream.  Zach is a patient and fun guy to be around and we love having him teaching our swiftwater rescue classes!