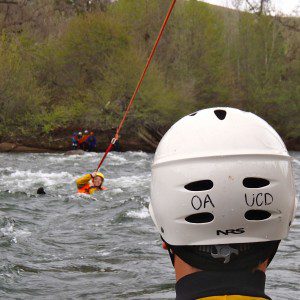 It sure was great to get back in the water after a long cold winter in Jackson, Wyoming. The powder was great, but it's an amazing spring in California. Over the last 2 days we had 21 new guides from UC Davis outdoor adventures going through our River Rescue Certification (RRC). With 5 veteran trainers from UC Davis, and 3 of us from Sierra Rescue, we stayed busy in and around the river in Coloma, CA. It was a special treat for me to get the chance to teach alongside rescue guru and swiftwater ninja, Mike Mather.
The students did an awesome job, and one of the highlights for everyone was the "Pikes Peak Continental Divide Swiftwater tactical challenge". We pitted two teams of 12, head to head, against one another in a swiftwater time trial consisting of anchor building, 3:1 ma systems, tension diagonals, a throw bag competition, and vector pulls with rafts. After 20+ minutes the times were very close, but team Arkansas edged out its opponents, team Colorado. Fun way to review some of our swiftwater tools.
Looking forward to a busy spring, and hopefully some rain to keep us boating the summer away.
See you on the water!
–ZB 3.28.13