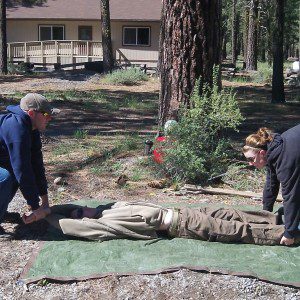 We just did another set of Wilderness First Aid/First Aid and CPR courses for the USFS. This is our 6th year doing trainings for the Quincy, Chester and Susanville crews.  It started out as a training for just the owl crews and this year I think we had more crews than ever represented.  The timber, hydrologist, biologist, herpatologist, archeologists, fish, botanist, civil culturalism crew and more were in attendance this year!!
We focused on things that would most likely happen to them.  Musculoskeletal injuries such as sprains/breaks and wound care were covered as well as much much more!!
The weather co-operated although there was snow on the ground the morning before the class so I was expecting a cold course but it was sunny and lovely and we spent the whole day outside!!
We use pig or chicken legs to do a realistic wound lab complete with punctures, fish hook removal and dirty lacerations that need cleaning and packaging.
If you know anyone that would benefit from this training please pass our info along
Sierra Rescue-800-208-2723 or SierraRescue.com.
It is an 8 hour course complete with OSHA approved CPR and First Aid certification.