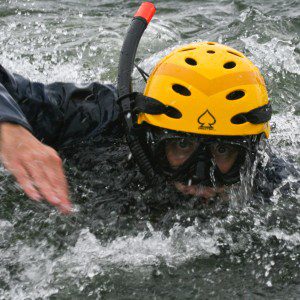 Have you been looking to round out your Swiftwater Rescue training?
Then you should check out our newest course – Inland Rescue Swimmer-Basic course.
The course focuses on inland bodies of water such as lakes, resevoirs, wide slow moving rivers and floods.
We have had students over the the years who due to lack of a better fitting training have ended up in the Swiftwater Rescue courses even though they didn't have fast moving rivers in their jurisdiction.  Well now that problem has been resolved and there is finally a course for you.
This is also a great course to add onto your SRT training as it is a totally different set of skills.
We focus on swimming skills and styles, swimming with adjuncts and victims, backboarding and loading backboards and injured persons onto boats,  search techniques and much more!
It is a two day jam packed active course-no classroom or lecture!!
We have run a handfull of them now and they are super fun!
It is certified through Rescue 3 International and taught by Sierra Rescue/Rescue 3 West.
If you have any questions or want to register contact us at SierraRescue.com or 800-208-2723.
We are also happy to pass along any student referrals if you'd like.
We offer courses for individuals or groups.
If you have a group -depending on the numbers and location we can come to your site. To secure a group date please contact our office at the above number.
We hope to see you in the pool and out in the lakes and resevoirs!