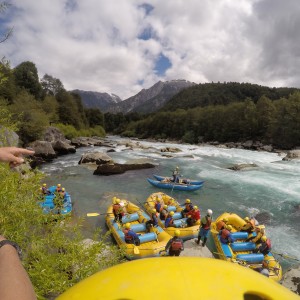 I recently had the opportunity to travel to Chile and got to spend a few weeks on the Futaleufu river in Patagonia. My wife and I joined up with a commercial trip through BioBio expeditions. We bridged the gap between guests and guides, leaning more toward the guide side. Once we proved our worth with on-water skills, Tessa and I had free rein to tag along in any craft we wanted. The "puente puente" section, just a few miles downstream from Bio Bio's camp provided a perfect playground for whitewater thrills. Highlights were an R2 run and a double ducky run on the famous bridge to bridge run.
The Futaleufu runs through a pristine section of Patagonian wilderness. Nestled between glaciated mountain peaks the water is an unbelievable color and its current holds a power rivaled by few rivers in the world. Picture the volume of the grand canyon flowing downhill with 10 times the gradient, with similar style to the Illinois or Touloume rivers.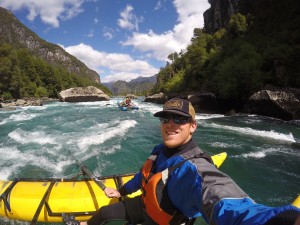 Traveling to the Futaleufu river was an incredible experience highlighted by great people and guided by some of the world's best whitewater professionals. Combine that with the stunning rugged beauty, and first class trout fishing, I'm not sure how I ever left. We're looking to combine forces with Bio Bio next season for a swiftwater rescue training on the Futaleufu and an International Rafting Federation assessment. Stay tuned for more information.