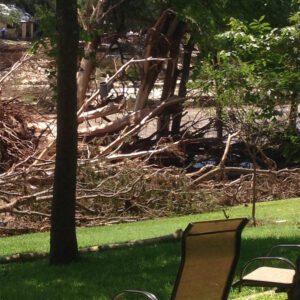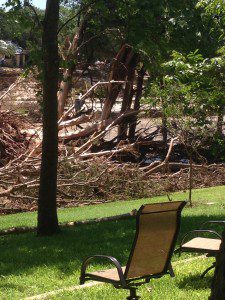 Texas native and Sierra Rescue's own, Zach Byars recently returned to Texas to his childhood home on the Blanco river in Wimberley where his family's house was hit hard by the recent flooding. Byars wasn't able to participate in the search and rescue efforts but was able to assist friends in family in the post-flood clean up effort. Says Byars, "It was like walking into a war zone, trashed debris everywhere; mountains of dismantled houses blocked roads and driveways."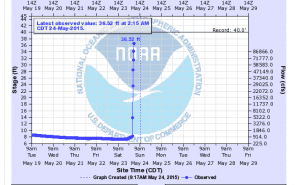 The memorial weekend blanco flood shattered the last high water record set in 1929 when the blanco crested at 32 feet. This flood eclipsed that mark by 8 feet before the gauge was washed away. The damage to homes on the river was catastrophic. In addition to the loss of life, many homes were completely destroyed and hundreds left in ruin from rushing water.
Byars was eager to help the relief effort, and help his parents get things sorted out. "When i arrived on wednesday morning after the sunday night flood, it was still 'go' mode; a triage of sorts. We were still trying to salvage what we could and sort through the rest."
We teach constantly about the force of water in our courses but to see the destruction firsthand was staggering. 150+ ft. Cypress trees that lined the river bottom for hundreds of years were toppled twisted or wiped out completely. One tree in particular, 'the big guy', estimated at 500-700 years, was ripped out the bank and pushed over downstream. The loss of those trees was tough to swallow. Even trees that still stand will likely die due to severe damage.
Wimberley is reeling but recovering; mourning the loss of life and property, restoration and the road to recovery begins. The first responders deserve a big thanks for their rescue efforts that successfully made 70+ water rescues saturday night and the early hours of sunday morning when the water was on the rise. A big thanks to Carol Chichoz and the Wimberley Fire Department.