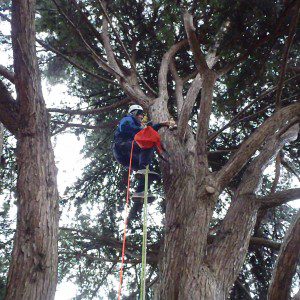 I am extremely excited about our new Technical Animal Rescue course; also known as the Animal Rescue Technician course. The new curriculum takes all levels of technical rope and swiftwater rescue skills into consideration.
Because of the skills of the Del Mar Lifeguards, our course includes some advanced swiftwater rescue skills.  We were able to rescue dogs from the surf line, out of a river channel and from a motorized inflatable rescue boat in both the surf and flat water.  As technicians in technical rope rescue, we were able to do vertical dog lifts up the side of a building, as well as steep angle and vertical cliff rescue. We also practiced safe tree climbing to access a cat stuck in a tree simulating a situation with no other access options available (such as a ladders).
We had the pleasure of working with a horse, Chloe, provided by Debbie Lundberg. Debbie is an amazing horse woman and I would recommend her to anyone wanting to learn to ride!  We worked on ground handling, basic horse behavior, improvised haltering, catching horses, safe ways to tie up horses, and safety of the rescuer and the public.
A segment of the course familiarizes the rescuer with more complicated large animal rescues through training films and slides about the dangers of an animal trailer highway accident, basics of mud rescue, large animal vertical lifts and helicopter rescue with harnesses like the Anderson sling.  All students are encouraged to participate in a Technical Large Animal-specific training from an accredited provider such as TLAER.
The curriculum also includes a hands-on session with an expert in animal capture and handling from a local Humane Society or Animal Control.  The course includes segments on animal first aid, the PET act and other legislation that affects technical animal rescue. With all our swiftwater rescue and technical rope rescue curriculum, human safety is of course our first priority, for both the rescuer and the public.
During any rescue situation, the rescuer is always at risk. All of our courses always put human safety above all else. It's important that safety is always emphasized as the first priority in any kind of rescue.
This January, I had the pleasure of trying out our new Technical Animal Rescue Course with Sierra Rescue with the Del Mar Lifeguards.